Decorative aggregates
We offer a wide range of materials for use in your garden and other situations which require decorative landscaping aggregates.
GET A QUOTE

>
NEED ADVICE?
Call Andy on 07986 116969 today.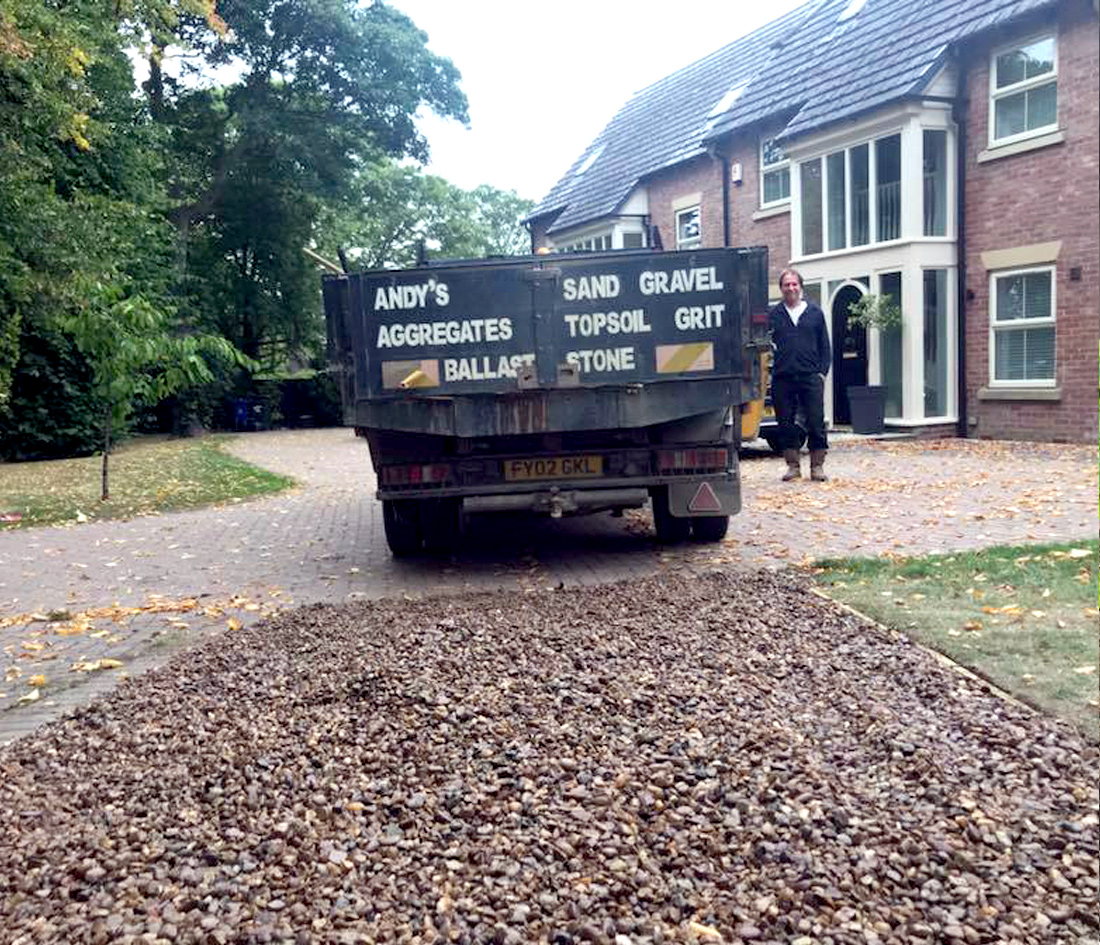 Decorative aggregates in Doncaster
We deliver a range of decorative aggregates suitable for drives and ground cover. Slate, granite, gold flint and the durable Derbyshire limestone being some of the most popular.
Andy's Aggregates is a Doncaster based business that specialises in the delivery of small loads throughout the local area. Our tipper is small enough to reach places that larger lorries cannot, thus usually sparing you the pain of moving the load again once delivered. Our rates are always competitive, and we deliver a wide range of products.
Slate chippings
A variety of coloured materials to brighten up any garden.  If you are trying to match up existing materials then please ensure that you have seen a sample against you existing material if a close match is important.
Types of slate
Plum slate
Green slate
Blue slate
Flint & gravel
It is worth remembering when using very light colours that leaf build up, weeds or soil that gets on the surface will stand out.  Large areas of white gravel under deciduous trees/shrubs is not a good idea and makes for more work in the long run.  Lighter gravels can however be very effective in small areas to highlight small evergreen plants/shrubs in a rockery and in borders.
Flint can be effective in larger areas also when used in naturalistic planting.
Types of flint & gravel
Gold flint gravel 20mm
Gravel 20mm
Gravel 10mm
Granite & limestone
Available in a variety of coloured materials, including green and red granite can brighten up any garden. Limestone is not as tough and durable as other gravels, but can be useful to brighten up areas as a decorative gravel.
Types of granite & limestone
Red granite
Green granite
Cotswold limestone
Derbyshire limestone
Some of our popular aggregates
Why choose Andy's Aggregates
Hassle-free quote
Local queries, competitive prices
Free deliveries
Guaranteed appointments
Friendly service
Read our Google reviews